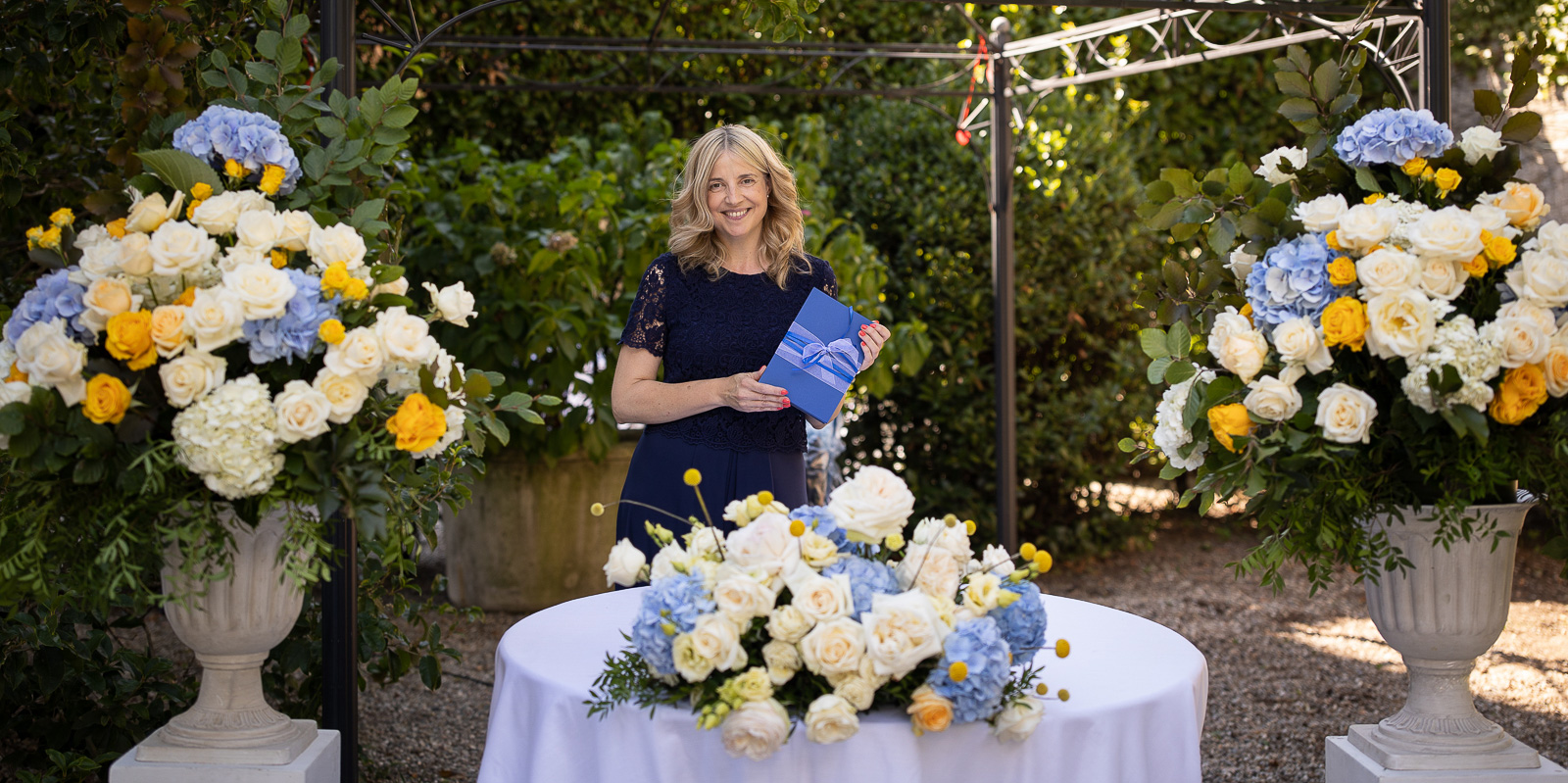 Paola Minussi

I introduce myself
I live in Como with a husband, two children and 3 cats. I was born in Como on a Saturday in Springtime. It was the year 1971.
I am fascinated by the cultures and languages of the world.
I speak English, German and Portuguese (Italian mother tongue).
I have studied Latin and Greek, Philosophy and Literature, History and Esthetics and Theater. I have a degree in
Economics and Organization of Performance
from the
Università degli Studi di Milano
.
From the age of six I have studied Music, Harmony and Song and I have a diploma in
Classical Guitar
from the Conservatorio
Giuseppe Verdi di Milano
.
I have spent years dedicating myself to classical music and I have traveled the world giving concerts as a soloist, duo and with different ensembles.
Since 2000 I work in Basel (German part of Switzerland) at the Musikakademie der Stadt Basel where I teach classical guitar.
I have been – and still am – a curious and tireless reader.
But most of all I love writing and telling stories.
---
I decided to become a lay celebrant…
… after attending the wedding of a good friend of mine who, after years of engagement and cohabitation with his lifelong partner, crowned his dream of love by joining him in marriage.
Their ceremony took place on a beautiful spring day in the garden of their home in Heidelberg, Germany, and was officiated by a fellow musician who was also a humanist celebrant.
I heard such poignant words of love, I listened to their story, from the first meeting to the marriage proposal, I witnessed their unique and passionate promises that I decided that one day I too would become a celebrant in order to honour the important moments in life, whether happy or sad, in their unique and very personal uniqueness.
I decided to become a lay celebrant, because I believe that celebrating the most important moments of our lives in the light of these principles can really make a difference and help us to build a better world.
My deepest desire in doing what I do as a celebrant is to contribute as much as I can to a more colourful, welcoming and supportive world; in my role as a celebrant, I am committed every day to a secular, humanist society that makes diversity a strength and a richness to be shared.
I am an accredited celebrant of the National Association Uaar and I am part of the Federcelebrant Celebrants Collective.
---
I love telling the story of people's lives
The first stories that I wrote, I dedicated to my children. I'm an adoptive mother and I know well what it means to find the right words to make sense of one's life and be able to take flight towards one's future. With awareness, enthusiasm and levity.
I am passionate about anything to do with communication and sharing.
I have great enthusiasm for creating networks between people who share projects, wishes and dreams and who try to fulfill them; for this reason I founded the
Women in White – Society
, an association which does social promotion of which I am
president
. It has the mission to promote female culture and thinking in society, for a world which is more colorful, hospitable and respectful of diversity (not only that of gender).
As soon as I can, I travel to Portugal, I dream of moving to Lisbon one day, spending all my free time listening to the Fado (traditional Portuguese music), and reading the poetry of Fernando Pessoa and raising hens for company.
From my love for Portugal and, in particular, for the city of Lisbon, some beautiful collaborations were born:
Mi presento
Vivo in Italia, a Como, sulle sponde dell'incantevole lago, con un compagno, due figli e tre gatti. Sono nata in questa città un sabato di primavera. Correva l'anno 1971.
Sono affascinata dalle Culture e dalle Lingue del mondo: parlo italiano, inglese, tedesco e portoghese
Ho studiato Filosofia e Letteratura, Storia ed Estetica. Musica e Teatro.
Mi sono laureata in
Economia e Organizzazione dello Spettacolo
all'
Università degli Studi di Milano
e mi sono diplomata in
Chitarra Classica
al Conservatorio
Giuseppe Verdi di Milano
.
Ho passato anni dedicandomi alla musica classica e ho girato il mondo facendo concerti come solista, in duo e con diversi ensemble.
Dal 2000 sono docente di chitarra classica presso la Musikakademie der Stadt Basel (Basilea, Svizzera tedesca).
Sono stata – e sono tuttora – una lettrice curiosa e instancabile.
Ma più di tutto adoro scrivere e raccontare storie.

---
Ho deciso di diventare celebrante laica…
… dopo aver partecipato al matrimonio di un mio caro amico che, dopo anni di fidanzamento e convivenza con il compagno di una vita, ha coronato il proprio sogno d'amore unendosi a lui in matrimonio.
La loro cerimonia si è svolta in un bellissimo giorno di primavera nel giardino della loro casa in quel di Heidelberg, in Germania ed è stata officiata da un loro collega musicista, che era anche celebrante umanista.
Ho udito parole d'amore così struggenti, ho ascoltato la loro storia, dal primo incontro alla proposta di matrimonio, sono stata testimone delle loro promesse così uniche e appassionate che ho deciso che anche io, un giorno, sarei diventata
celebrante
per poter onorare i momenti importanti della vita, lieti o tristi che fossero, nella loro irripetibile e personalissima unicità.
Un altro motivo fondamentale che mi ha spinto a percorrere questo cammino è il mio desiderio profondo di contribuire per quanto posso a un mondo più colorato, più accogliente e solidale; nel mio ruolo di celebrante mi impegno ogni giorno per una società laica, umanista e che faccia della diversità una forza e una ricchezza da condividere.
Sono convinta che celebrare i momenti importanti delle nostre vite, alla luce di questi principi, possa davvero fare la differenza e aiutarci a costruire un mondo migliore.
Sono celebrante professionista accreditata Uaar e faccio parte della Federazione di settore Federcelebranti.

---
Narrare le storie di vita è la mia passione
Le prime storie che ho scritto le ho dedicate ai miei figli. Sono mamma adottiva e so bene cosa significa trovare le parole giuste per dare senso alla propria vita e poter spiccare il volo verso il futuro. Con consapevolezza, entusiasmo e leggerezza.
Mi appassiona tutto ciò che è comunicazione e condivisione.
Mi entusiasma fare rete tra persone che condividono progetti, desideri e sogni e cercano di realizzarli; per questo ho fondato la
Women in White – Society
, associazione di promozione sociale di cui sono
presidente
e che ha come scopo promuovere la cultura e il pensiero femminile nella società, per un mondo più colorato, accogliente e rispettoso delle differenze (non solo di genere).
Appena posso viaggio in Portogallo, sognando di trasferirmi un giorno a Lisbona e passare tutto il mio tempo libero ad ascoltare il Fado (la musica tradizionale portoghese), a leggere poesie di Fernando Pessoa e ad allevare galline da compagnia.
Dal mio amore per il Portogallo e, in particolare, per la città di Lisbona, sono nati alcuni progetti che ho molto a cuore: