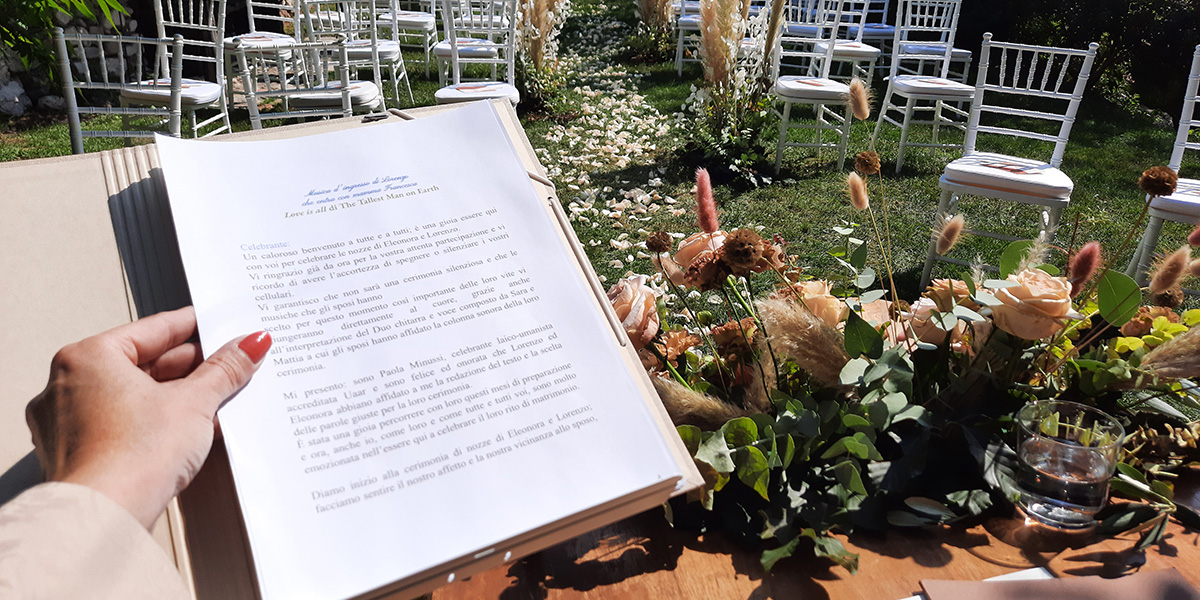 Questions & Answers

For many reasons: because you do not identify yourselves with any official religion and its rites, because you want to reconcile inclusively different beliefs within your circle of relatives and friends, because you have a clear idea of what you don't want (rites which are all the same, which have become crystallized and are tied to dogma) but you know exactly what you want. There are many reasons for contacting a celebrant: the underlying reason is the desire to live an important time in your lives through a ceremony which is unique, planned and created especially – in every moment – for the protagonists. No dogma or sterile and pre-confectioned vows, no formula which is without a deep sense. You and your stories are at the center of everything.

I have gathered many formative experiences, both professional and personal during my life. I have years of classical studies, both musical and literary, thirty years of concerts and travel around the world. Thirty years of teaching. Experiences in family voluntary work, civil engagement in my town and the professionalism acquired organizing cultural events. I choose to become a mother and to build a family through national and international adoption and this journey has given me greater sensibility when approaching others in every age group. Today I bring with me all this background and I can place it at the disposition of anyone who wishes to entrust me with a special moment to celebrate.

Every ceremony is different and therefore it is impossible to establish a price a priori. After the first video call or in person (without any obligation) I will be able to give you all the necessary information to identify the modality and the course which is most congenial for you.
As in every sector, professionalism has a value which is also economic. The proposals in this field are varied, it's up to you to choose and find the person who inspires trust, reliability and empathy, which is also in line with your budget.

It can have legal value if the celebrant has the authorization of the Mayor and the anagraphic registry. My advice is to perform the moment of the legal union and the necessary documentation in the municipality of reference, to then celebrate with the maximum freedom and fantasy, in the way and in the place dear to you, your ceremony with family and friends. It will be this moment without doubt that will always be remembered as the most significant and unique.

Once you have completed the necessary paperwork, which I suggest is carried out first, your ceremony can be performed anywhere: in a woods, on the beach, on the shores of a mountain lake, in a botanic garden, in the salon of an elegant 18th century villa or in a theater: the choice is yours. I am at your disposal to harmonize your ceremony with the backdrop you have chosen.

What is more beautiful than to involve the people dear to you in the performance of the ceremony? Certainly every contribution is welcome – literary, musical, poetical or other – which your guests would like to give to you to make this moment more unique or personal. I will arrange all the ideas which are received and ensure that they are inserted to their best in the ceremony, giving them the right timing and space. If you wish, I will be happy to help with the creation of the wedding vows, to create them with originality and in full accordance with your wishes.

Children are full of energy and love movement; it is beautiful and important to make them feel part of the ceremony. To involve them without letting them get bored or loading them excessively with responsibility, according to their age and their temperament, we will think of an action, a gesture, a special task assigned to them, in a way which makes them feel like co-protagonists in this special moment. Often I like to already include them in the preparation phase; baking a dessert together with close family members, making a drawing to deliver in a special package in a precise moment of the ceremony, reciting a poem. Little is needed to make them feel important. And they will remember it all their lives.

This is a question which is close to my heart. As an adoptive mother I know well how important it is to tell the story of our children who have come from afar delicately and carefully, especially in the crucial moment when we welcome them to our family and to their new social context. If you wish, and after carefully listening to your stories, I will help you to weave the thread of this magical meeting, which from far off countries has brought you together to give life to a special love.

It is always possible to insert a few passages in a second language or celebrate the entire ceremony in two different languages. In that case, if I don't know personally the languages required I will avail of fellow mother tongue colleagues.

The particularity of the lay-humanist ceremony is precisely this: not to rely on any rite or religious ritual. No belief, or text which references a specific doctrine but an unedited narrative, inclusive, thought of and written only for its protagonists, respecting their sensibility and history. At the center of the lay-humanist ceremony, there is the human being, of whom is celebrated, at their chosen time, their moments of passage.

Music is highly evocative of memories and emotions and without doubt gives us the possibility to powerfully highlight the most moving moments of the ceremony; knowing how to choose pieces and suitable instruments is the key to making everything unforgettable. As a musician I know how to accompany you in the choice of a suitable repertoire and also in the decision of hiring live musicians or using pre-recorded musical support.

The understanding between the celebrant and the photographer is a crucial point for having a successful ceremony. When asked for advice in this regard,
I suggest Alle Bonicalzi
, with whom I have had the pleasure to collaborate for many years in perfect synergy. In the case where this aspect has already been defined, it is always my habit to arrive well in advance at the ceremony venue to meet with the photographer and arrange our participation in such a way as to make this moment memorable.
I will briefly explain the
practical steps
: after the first contact,
we meet in video call or in person
(where possible and welcome) and we proceed with the stipulation and signing of the
contract
, which gives you the guarantee that in every eventuality – if I should, for example break a leg and not be able to celebrate in person – it will be my responsibility to find an accredited Uaar celebrant who will carry out the task in my place following the directives and modality that we have agreed on together. This also guarantees my work, in that
half of my fee will be paid in this first phase
(the balance of my fee will be paid on the day of the ceremony). From this moment on we will proceed with the
definition of all the details of the text of the ceremony
: I will listen to your stories, your desires and necessities, and I will ask you information (both orally, and in some cases by questionnaire) to be better attuned to your idea and ceremony plan, I will understand if there is the participation of family and friends to coordinate and
I will proceed with drawing up the ceremony text, always remaining in close contact with you both
. I will be at your disposal and I will continue to submit drafts of the text until you give me the final ok. Only in that moment
I will create and print, especially for you both, a unique and special booklet
:
Your Ceremony's issue
. At the end of the ceremony it will be a joy to present to you this document, which will be an ever-present memory of this life transition.
In the case of the
Union ceremony
, if you wish, I will help you to formulate your own truly personal and original wedding vows. If you wish, I will help you with the choice of musical pieces which will accompany the most important moments, and where requested,
I can provide suggestions for ensembles of classical music
(and not only) that can perform live. If you need advice,
I can also suggest a photographer and some locations
.
I want to emphasize that
my task is the wording of the text of the ceremony and its conduction
. Anything else is not expected of the celebrant, even though I can give you suggestions on the aspects listed above, you or your wedding planner must however deal with their arrangements.
I will be with you for all the period of defining the text
(which can take months or just one day). I will not invade your privacy but I will accompany you with professionalism and with care, respecting the space which you require and can dedicate to this journey together.
Per diversi motivi: perché non vi riconoscete in nessuna religione ufficiale e nei suoi riti; perché volete conciliare in modo inclusivo credo differenti all'interno della cerchia di parenti e amici; perché avete un'idea ben precisa di quello che non desiderate (riti uguali e cristallizzati legati a un qualche dogma) ma sapete benissimo quello che volete. Tanti sono i motivi per rivolgersi a un/a celebrante: alla base c'è sempre il desiderio di vivere un momento di passaggio importante della vostra vita attraverso una cerimonia che sia unica, pensata su misura e creata apposta – in ogni momento – per chi ne è protagonista. Nessun dogma, nessuna promessa sterile e preconfezionata, nessuna formula che non abbia un senso profondo. Al centro di tutto ci siete voi e le vostre storie.

Ho collezionato tantissime esperienze formative, lavorative e personali durante il mio percorso. Ho alle spalle anni di studi classici, sia musicali che letterari, trent'anni di concerti e di viaggi attorno al mondo. Trent'anni di insegnamento. Esperienze nel volontariato familiare, impegno civico per la mia città e professionalità nell'organizzazione di eventi culturali. Ho scelto di diventare madre e di costruirmi una famiglia attraverso l'adozione nazionale ed internazionale e questo cammino mi ha regalato una sensibilità in più nell'avvicinarmi alle persone, di ogni età. Oggi porto con me tutto questo bagaglio e posso metterlo a disposizione di chi si affida a me per un momento speciale da celebrare.

Ogni cerimonia è diversa e quindi è impossibile stabilire un prezzo a priori. Dopo un primo colloquio telefonico o di persona (senza impegno) sarò in grado di darvi tutte le informazioni in merito per individuare insieme la modalità e il percorso a voi più congeniale. Come in ogni settore, la professionalità ha un valore anche economico. Le proposte anche in questo campo sono varie, spetta a voi scegliere e trovare la persona che vi ispiri fiducia, serietà ed empatia, anche in base al vostro budget.

Può avere valore legale se chi celebra ha la delega del Sindaco e il registro dell'Anagrafe. Il mio consiglio è quello di svolgere il momento dell'unione legale e le necessarie pratiche burocratiche presso il Comune di riferimento per poi celebrare con la massima libertà e fantasia, nel modo e nel luogo a voi più caro la cerimonia con parenti e amici. Sarà senz'altro questo il momento che verrà ricordato per sempre come il più significativo e unico.

Una volta espletate separatamente le eventuali pratiche burocratiche, che suggerisco di svolgere in anticipo, la vostra cerimonia si può svolgere ovunque: in un bosco, sulla spiaggia, sulle sponde di un lago di montagna, in un giardino botanico, nei saloni di un'elegante villa Ottocentesca o in un teatro: a voi la scelta. Io mi metto a vostra disposizione per armonizzare al meglio la vostra cerimonia nello scenario che avrete scelto.

Cosa c'è di più bello che coinvolgere le persone care nello svolgimento della cerimonia? Certamente è benvenuto ogni contributo – letterario, musicale, poetico o di altro tipo – che i vostri invitati vorranno donarvi per rendere ancora più unico e personale questo momento. Io concerterò tutti gli spunti che potranno arrivare e farò in modo che si inseriscano al meglio nella cerimonia, dando loro il giusto tempo e spazio. Se lo vorrete, sarò lieta di aiutarvi anche nella redazione delle promesse di matrimonio, per redigerle con originalità ma nel pieno rispetto dei vostri desideri.

I bambini sono pieni di energia e amano il movimento; è bello e importante farli sentire parte della cerimonia. Per coinvolgerli senza farli annoiare e senza appesantirli con eccessive responsabilità, a seconda della loro età e del loro temperamento, penseremo un'azione, un gesto, un compito speciale da affidare loro, in modo che si sentano co-protagonisti di questo momento così importante. Spesso mi piace renderli partecipi già nella fase dei preparativi; cucinare un dolce insieme alle persone care di riferimento, fare un disegno da consegnare in una busta speciale in un momento preciso della cerimonia, recitare una poesia. Basta poco per farli sentire importanti. E lo ricorderanno per tutta la vita.

La questione mi tocca da vicino. Come mamma adottiva so bene quanto sia importante raccontare la storia delle nostre figlie e dei nostri figli arrivati da lontano con delicatezza e attenzione, soprattutto nel momento cruciale in cui diamo loro il benvenuto in famiglia e nel loro nuovo contesto sociale. Se vorrete e, dopo un attento ascolto delle vostre storie, vi aiuterò a tirare le fila di questo magico incontro che, da Paesi lontani vi ha riunito insieme per dare vita a un amore speciale.

È sempre possibile inserire alcuni brani in una seconda lingua o celebrare l'intera cerimonia in due lingue differenti. In tal caso, qualora non conosca personalmente le lingue richieste, sarà mia cura avvalermi di colleghe e di colleghi di madre lingua.

La peculiarità di una cerimonia laico-umanista è proprio questa: non affidarsi ad alcun rito o rituale religioso. Nessun credo, nessun testo che rimandi a dottrine specifiche ma un racconto inedito, inclusivo, pensato e scritto unicamente per i suoi protagonisti, rispettandone le sensibilità e la storia. Al centro di ogni cerimonia laico-umanista c'è l'essere umano, di cui si celebrano, di volta in volta, i momenti di passaggio.

La musica è una grande evocatrice di ricordi ed emozioni e ci dà senz'altro la possibilità di sottolineare in modo potente i momenti più emozionanti della cerimonia; saper scegliere i brani e gli strumenti più adatti è la chiave per rendere il tutto indimenticabile. Da musicista saprò accompagnarvi nella scelta del repertorio più adatto e anche nella decisione se avvalervi di musicisti dal vivo o se diffondere musica tramite supporto.

L'intesa tra celebrante e chi si occupa del servizio fotografico è un punto cruciale per la buona riuscita della cerimonia.
A chi mi chiede un consiglio in merito, suggerisco Alle Bonicalzi
con cui ho il piacere di collaborare da anni in una perfetta sinergia. Nel caso fosse già definito chi si occupa di questo aspetto, è sempre mia abitudine arrivare con largo anticipo nel luogo della cerimonia in modo da incontrare di persona chi se ne occupa e concertare al meglio i nostri interventi per rendere questo momento memorabile.
Vi spiego in breve i
passaggi pratici e operativi
: dopo il primo contatto,
ci incontriamo di persona
(laddove possibile e gradito) e procediamo alla stipula e alla firma del
contratto
che dà garanzie a voi del fatto che, in ogni evenienza – se mi dovessi, per esempio, rompere una gamba e non potessi celebrare io di persona – sarà mia cura trovare un/a celebrante accreditata
Uaar
che svolga tale compito al mio posto secondo le direttive e le modalità concordate insieme, e garantisce anche il mio lavoro, in quanto
la metà del mio onorario andrà versata in questa prima fase
(il saldo del mio onorario sarà da versare il giorno della cerimonia). Da quel momento in poi procederemo a
definire tutti i dettagli del testo della cerimonia
: ascolterò le vostre storie, i vostri desideri e necessità, vi chiederò informazioni (sia a voce, sia eventualmente con questionari) per meglio entrare in sintonia con la vostra idea e il vostro progetto di cerimonia, capirò se ci sono eventuali interventi di parenti e amici da armonizzare e da inserire e
procederò alla redazione del testo della cerimonia
, sempre in stretto contatto con voi. Sarò a vostra disposizione e vi sottoporrò la bozza del testo più volte fino al momento in cui mi darete l'ok finale. Solo in quel momento potrò
creare e stampare, apposta per voi, un fascicolo unico e speciale
: il
dossier della vostra cerimonia
. Al termine dell'evento sarà per me una gioia consegnarvi questa pubblicazione, che sarà un ricordo sempre presente di questo passaggio di vita.
Nel caso delle
cerimonie di Unione
, se lo desiderate, vi aiuterò a formulare le vere e proprie promesse in modo personale e originale. Se lo vorrete, vi aiuterò nella scelta dei brani musicali che vi accompagneranno nei momenti salienti e, laddove richiesto,
potrò fornirvi suggerimenti su ensemble di musica classica
(e non solo) che potrebbero suonare dal vivo. Se mi chiederete consiglio,
vi suggerirò anche in merito al servizio fotografico o eventuali location
.
Ci tengo però a sottolineare che
il mio compito è la redazione del testo della cerimonia e la sua conduzione
. Tutto il resto non spetta alla figura della celebrante, anche se potrò darvi suggerimenti sugli aspetti sopra elencati di cui, però, dovrete occuparvi voi o la vostra Agenzia di riferimento.
Io sarò con voi per tutto il periodo della definizione del testo
(che potrà essere lungo mesi o solo un giorno). Non sarò invadente ma vi accompagnerò con professionalità e con riguardo, rispettando gli spazi che vorrete – e che potrete – dedicare a questo percorso insieme.
---
For more information and to arrange a no-obligation video call
contact me via email: paola.celebrantelaica@gmail.com
or whatsapp: +39 347 432 4397
---